Does Hardscaping Increase Home Value?
If you're looking to beautify and add value to your home, there are a number of projects you can try. One of the most rewarding involves seeing something new and beautiful being built in your back yard, while creating a nicer outdoor living space for your family.
This is called hardscaping, and it's something we'd be more than pleased to help you with it. Hardcsaping introduces well-crafted and complimentary man-made elements into the natural features of a property, adds beauty and value to your home, and can greatly increase the amount of enjoyment and use you get from your back yard.
Keep reading to learn more about hardscaping, and how having hardscaping added to your property could be the best home investment you make this year.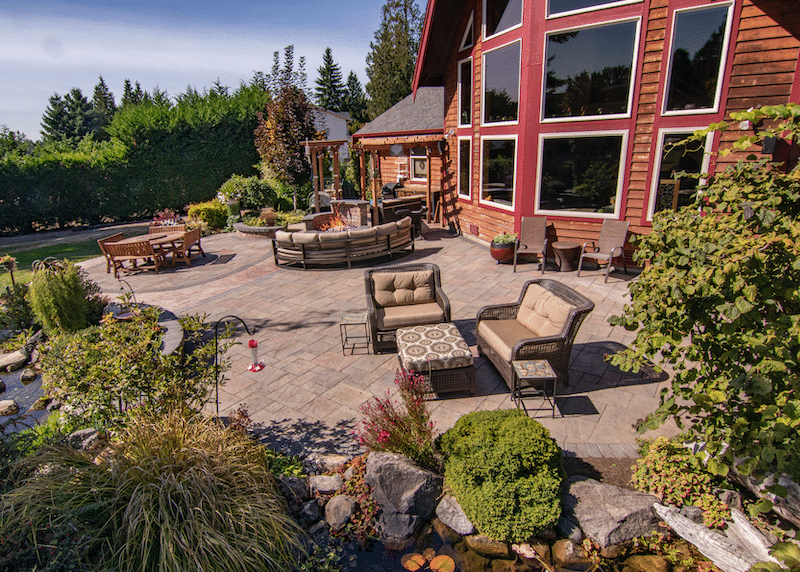 What is Hardscaping?
Hardscaping is the practice of adding man-made features or structures to your property to compliment or accent vegetation. These features can be functional, decorative, or a little of both. They're not meant to overwhelm the property but compliment it.
Hardscaping can be constructed of wood, stone, pavers, concrete, or brick. Hardscaping is often used in conjunction with gardens and a well-tended lawn to add beauty, appeal, functionality, and atmosphere to a property.
In contrast, landscaping refers to work that is done on the natural features of a property, or which involves innate or living components of a yard, such as shrubbery, earth, trees, flowers, and grass.
Most Popular Hardscaping Projects
So what kind of hardscaping projects are popular with homeowners? Retaining walls, patios, fire pits, stone walkways, fountains, gazebos, grape arbors, and fountains are all examples of hardscaping.
These hardscaping projects can be little or small, and can be adapted to suit the elevation and natural features of your yard, work well with existing landscaping, and the preferences of your family. Are you looking to create an outdoor living space, or just give yourself a more pleasant way to walk to the garage, on natural stone instead of dewy grass?
Larger structures and spaces can be constructed, too, and can involve stone or brick seating, or wooden elements. These projects add functionality, and also offer your family a place to relax, entertain, or enjoy a quiet evening outdoors. The charm of your back yard can be greatly enhanced by hardscaping, and you'll likely find yourself relaxing outside more often.
What Value Does Hardscaping Add?
Hardscaping your property can increase the monetary value of your home considerably. Beautiful and well-cared for homes and properties generally sell for more than homes that are run down.
Prospective buyers will know that you've put care into your yard, and will appreciate the added convenience of an outdoor entertaining space, as well as the attractiveness added by carefully constructed walls, walkways, and brick work. These desirable features can considerably increase the value of a property, as families seek to move into a space that is welcoming and aesthetically pleasing, too.
Conclusion
Hardscaping can greatly increase your family's present enjoyment of your property, as well as help increase property value should you ever choose to sell. These projects are often rewarding yet involved, and greatly benefit from the expert input and skill of a professional contractor.
Let our team of experts help you with your next hardscaping project, and allow you to enjoy even more of your property, year-round.
Want to Hire an Expert Hardscape Company?
If you decide you want to hire an expert hardscaping company in Western Washington or Oregon, contact Sta-Built Construction for your project in Seattle, Portland and surrounding areas.