Raised Bed Contractor in Western Washington
Are you thinking of building a raised bed garden? You have come to the right place. Raised beds provide you better control over the health of the soil contained inside. The goal is to create a deep and wide growing area that makes your plant-roots grow down and outward.
Why should you consider installing a raised bed?
Raised Beds also help keep you on top of pest issues because they are at eye level and so you can observe your plants more closely. Another added benefit is you do not have to bend over to weed, believe me, this itself is justifiable to purchase a raised bed.
How much does it cost to install a raised bed?
Yes stone raised beds do cost more but they look amazing, endure weathering, and are a great investment to your amazing property. This could set you back about $4,500 to $8,000 depending on your size.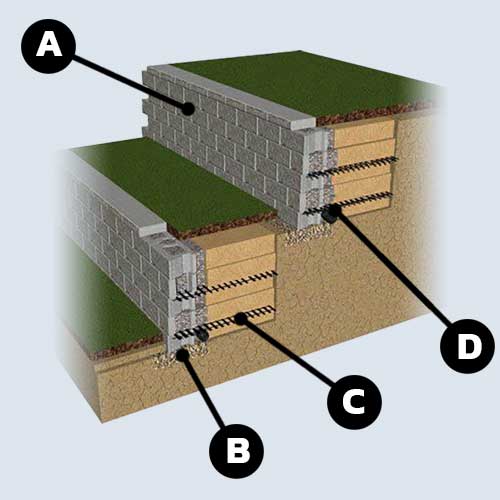 A: Retaining Wall
B: Compacted Gravel Leveling Pad
C: Geogrid Layers
D: Drain Pipe
Reasons To Work With Sta-Built Construction:
Reasonably Priced for Excellent Workmanship

15 Year Workmanship Warranty on Craftsmanship

Free Estimates

Easy Financing Options

Specialized Contractor in the Hardscape Industry
A+ Rating with the Better Business Bureau

Fully Licensed and Insured

Customer Experience App

Dedicated Project Management Team