Retaining Wall Contractor
Retaining Wall Installation in Portland
In Portland, Oregon, we specialize in installing retaining walls for residents and businesses. These structures not only enhance the aesthetic appeal of your outdoor space, but they also provide effective protection against soil erosion. With the prevalence of sloping backyards in Portland, many homeowners opt for retaining walls to create a level and usable outdoor area.
Expand Your Planting Space with Our Retaining Walls
Maximizing the potential of smaller to medium-sized backyard spaces is possible with a retaining wall. By adding a retaining wall, you can create additional space for planting, mini gardens, or trees. Our team of experienced paver installers can also help you plan and design your new, beautiful and functional space once the retaining wall is in place.
Cost of Retaining Wall Installation in Portland
The cost of retaining wall installation in Portland typically ranges from $7,500 to $25,000, with some projects reaching up to $250,000. The final cost depends on various factors such as the size and complexity of the project, material costs, and labor expenses. Let us help you determine an accurate estimate for your specific retaining wall needs.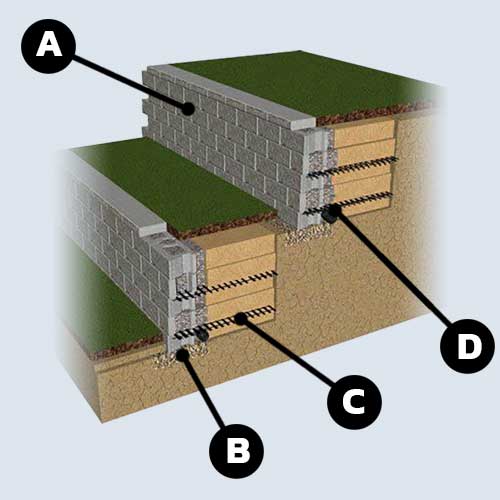 A: Retaining Wall
B: Compacted Gravel Leveling Pad
C: Geogrid Layers
D: Drain Pipe
Retaining Wall Project Examples
At Sta-Built Construction, we offer several reasons why you should choose us as your professional retaining wall contractor in Portland:
Expertise and Experience: We are knowledgeable in local building codes and safety standards, ensuring that your retaining wall is designed and built to the highest quality.
Equipment and Tools: Our team is equipped with the necessary tools and equipment to complete your retaining wall project efficiently and effectively.
Material Selection: We will help you choose the right materials for your retaining wall, considering factors such as cost, durability, and aesthetics.
Accurate Estimate and Schedule: We provide a detailed estimate and schedule for your retaining wall project, so you can plan accordingly.
Permit and Inspection Assistance: We can handle the necessary permits and inspections required by local authorities, saving you time and stress.
Warranty and Support: We offer a warranty on our work and stand behind it, giving you peace of mind.
Maintenance and Support: We are available to help you with the maintenance of your retaining wall in the future.
Design Options: We provide you with design options and help you select the best design for your property, ensuring that your retaining wall fits the style and aesthetic of your home.
Other Seattle Services We Offer:
Outdoor Kitchens
An outdoor kitchen is a fantastic way to elevate your backyard experience. With its ample cooking space, you can effortlessly prepare meals for your loved ones and guests. One of the biggest advantages of cooking outdoors is the reduction of indoor kitchen clean up. By opting for an outdoor kitchen, you can spend more time enjoying good food and company, and less time on tedious clean up. Discover more about the benefits of our outdoor kitchens.
Paver Patios
A paver patio is a popular choice for backyard makeovers and renovations. With its numerous benefits over a deck or concrete pad, a paver patio offers unparalleled versatility and design potential. Whether you want to create a bold statement or simply impress your family and friends, a paver patio is the perfect way to achieve it. Discover more about our paver patio installation services in Portland and transform your outdoor space.
Fire Pits
Creating an outdoor fire pit in Western Washington just makes sense in our climate. Nothing beats roasting s'mores or cooking hotdogs by the fire pit on a cool night with your friends and family. Paver fire pits are aesthetically pleasing and are the perfect addition to a paver patio. Learn more about paver fire pit installation.
Artificial Turf
Lawn mowing can be a tedious and costly task, especially when you'd rather be relaxing on the weekends. Fortunately, artificial turf offers a convenient solution to this problem. Our Portland customers love the versatility of artificial turf and often choose to have a turf putting green installed for practicing their golf game. If you're looking to save time and eliminate mowing, artificial turf may be the perfect option for you. 
Reasons To Work With Sta-Built Construction:
Reasonably Priced for Excellent Workmanship

15 Year Workmanship Warranty on Craftsmanship

Free Estimates

Easy Financing Options

Specialized Contractor in the Hardscape Industry
Fully Licensed and Insured

Customer Experience App

Dedicated Project Management Team