Retaining Wall Contractor
Retaining Wall Installer in Olympia
We design & build retaining walls for Olympia residents.
We can Help You With Your Backyard Wall Project
Retaining walls serve many purposes. They are not only aesthetically pleasing but they also help prevent soil erosion. Many Olympia homeowners choose to build a retaining wall because their backyard has a slope to it that they want to level out. By building a wall, you can help level out the ground and make a flatter more usable backyard space. 
A Retaining Wall Can Create Space for More Plants
A previousily unusable space can quickly turn into a usuable and attractive area of your backyard with a retaining wall. Once your wall is installed you'll be able to plant a minigarden, tree, flowers or other plants in this area. Our team of experts can help you plan on what to do with your new space once your retaining wall is built. 
How Much Does Retaining Wall Installation Cost in Olympia?
We typically see our Olympia customers spend between $7,500 to $25,000 on their retaining wall and some can be as much as $250,000.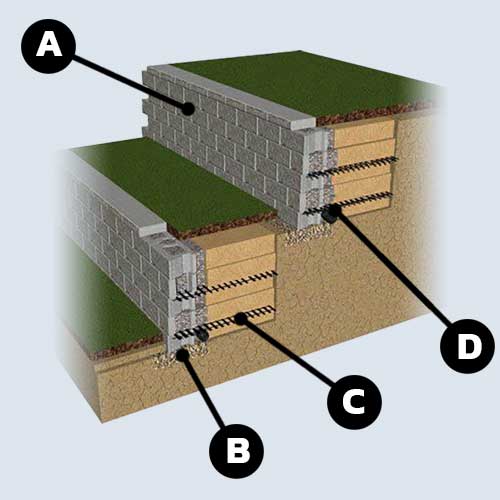 A: Retaining Wall
B: Compacted Gravel Leveling Pad
C: Geogrid Layers
D: Drain Pipe
Retaining Wall Project Examples
Other Olympia Services We Offer:
Reasons To Work With Sta-Built Construction:
Reasonably Priced for Excellent Workmanship

15 Year Workmanship Warranty on Craftsmanship

Free Estimates

Easy Financing Options

Specialized Contractor in the Hardscape Industry
A+ Rating with the Better Business Bureau

Fully Licensed and Insured

Customer Experience App

Dedicated Project Management Team