Retaining Wall Contractor
Retaining Wall Contractor in Seattle
We install retaining walls in Seattle, Washington.
Retaining walls are one of our most requested services in Seattle. While they are aesthecially pleasing, they are also very helpful in preventing soil erosion. Many Seattle residents choose to build a retaining wall because their backyard has a slope to it that they want to level out. By building a retaining wall, you can help level out the ground and make a flatter more usable backyard space. 
Create More Plant Space with a Retaining Wall
Many Seattle residents have small to mid size backyard spaces. Thankfully with a retaining wall, it's easy to creat more space for plants, minigardens or trees. We can help make a previousily unusable space usuable and attractive. Our team of paver installation experts can help you decide what to do with your new space once your retaining wall is built. 
How Much Does Retaining Wall Installation Cost in Seattle?
Seattle customers usually spend between $7,500 to $25,000 on their retaining wall and some can be as much as $250,000.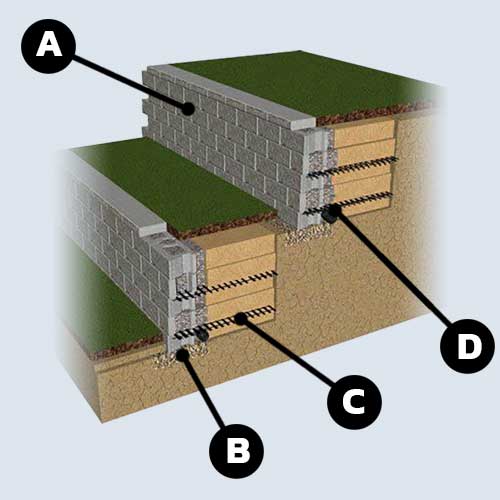 A: Retaining Wall
B: Compacted Gravel Leveling Pad
C: Geogrid Layers
D: Drain Pipe
Retaining Wall Project Examples
Reasons to Hire a Professional Contractor for your Retaining Wall in Seattle
Sta-Built Construction has the experience and expertise to design and build a retaining wall that meets local building codes and safety standards.

Sta-Built Construction has the necessary equipment and tools to complete the job efficiently and effectively.

We can help you choose the right materials for your retaining wall, taking into account factors such as cost, durability, and aesthetics.

We can provide a detailed estimate and schedule for the project, so you know what to expect in terms of cost and timeline.

We can handle any necessary permits and inspections required by local authorities.

Sta-Built Construction provides a warranty on our work and stand behind it.

We can help you with the maintenance of the wall in future.

Wecan provide you with design options and help you select the best design for your property.
Other Seattle Services We Offer:
Reasons To Work With Sta-Built Construction:
Reasonably Priced for Excellent Workmanship

15 Year Workmanship Warranty on Craftsmanship

Free Estimates

Easy Financing Options

Specialized Contractor in the Hardscape Industry
Fully Licensed and Insured

Customer Experience App

Dedicated Project Management Team